Research
The main interest of our group is to unravel the impact of food-related, bioactive molecules on human health from a global perspective. This includes contaminants that can cause adverse effects but also food constituents with protective properties as well as their complex interactions at various levels. Our activities can be attributed to three topics:
Global exposomics & drug-exposome interactions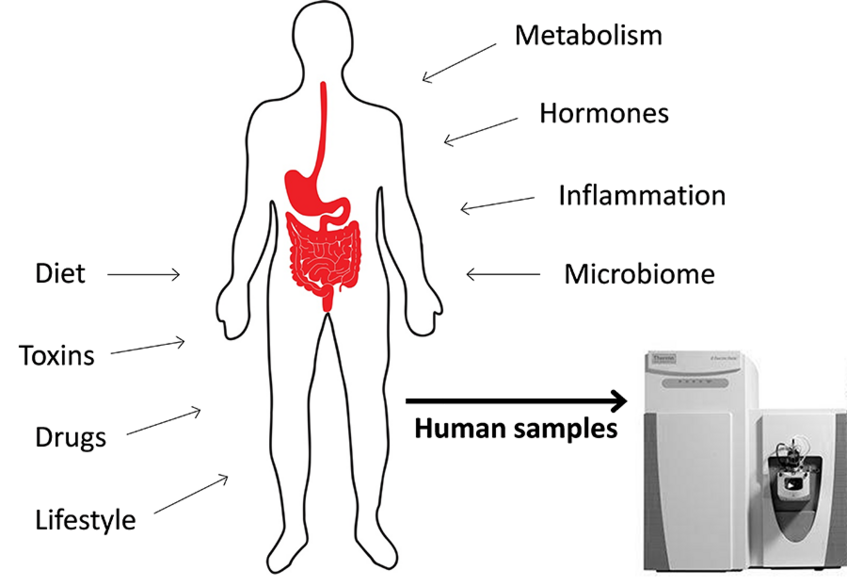 The holistic and untargeted assessment of xenobiotic exposure in human bio-fluids is currently entering center stage in the field of exposure science and public health research. The concept of the 'Exposome' aims towards the holistic investigation of lifetime exposures and their biological/toxicological consequences. We work on establishing new exposomics technology based on high-resolution mass spectrometry (HR-MS) metabolomics workflows to allow for global exposure assessment. Thereby we generate new hypothesis regarding environmental causes of disease and deciphering combinatory toxic effects and drug-exposome interactions.
Key publications:
Warth B., Spangler S., Fang M., et al. Exposome-Scale Investigations Guided by Global Metabolomics, Pathway Analysis, and Cognitive Computing, Analytical Chemistry, 2017 Nov 7;89(21):11505-11513. doi: 10.1021/acs.analchem.7b02759
Guijas C., Montenegro-Burke J.R., Warth B., Spiler M.E., Siuzdak G., Metabolomics activity screening for identifying metabolites that modulate phenotype, Nature Biotechnology, 2018 Apr 5; 36(4):316-320. doi: 10.1038/nbt.4101
Dellafiora L., Warth B., Schmidt V., et al. An integrated in silico/in vitro approach to assess the xenoestrogenic potential of Alternaria mycotoxins and metabolites, Food Chemistry, online available Dec. 7th 2017, doi.org/10.1016/j.foodchem.2017.12.013
Warth B., Raffeiner P., Granados A., Huan T., Fang M., Forsberg E.M., Benton H.P., Goeth L., Johnson Ch., Siuzdak G., Metabolomics Reveals that Dietary Xenoestrogens Alter Cellular Metabolism Induced by Palbociclib/Letrozole Combination Cancer Therapy, Cell Chem Biol. 2018 Jan 10. pii: S2451-9456(17)30459-2. doi: 10.1016/j.chembiol.2017.12.010. [Epub ahead of print]
Targeted human biomonitoring (HBM)
To facilitate individual exposure assessment of food contaminants we develop, optimize, and validate advanced LC-MS/MS methods for the accurate quantification of exposures. This includes toxic secondary metabolites produced by molds, so-called mycotoxins, which can be measured as biomarkers of exposure and effect in bio-fluids such as plasma, urine, and breast milk. This aims towards the in depth investigation of the health implications of well-known food contaminants.
Key publications:
Dominik Braun, Chibundu N. Ezekiel, Wilfred A. Abia, Lukas Wisgrill, Gisela H. Degen, Paul C. Turner, Doris Marko, Benedikt Warth, Uraveling Early-Life Mycotoxin Exposures via LC-MS/MS Breast Milk Analysis, PrePrint Publication, ChemRxiv, 2018, May 30th, DOI: 10.26434/chemrxiv.6391121.v1
Šarkanj B., Ezekiel CN., Turner PC., Abia WA., Rychlik M., Krska R., Sulyok M., Warth B., Ultra-sensitive, stable isotope assisted quantification of multiple urinary mycotoxin exposure biomarkers, Analytica Chimica Acta, 2018 Aug 17;1019:84-92. doi: 10.1016/j.aca.2018.02.036. Epub 2018 Feb 20.
Warth B., Braun D., Ezekiel Ch.N., Turner P.C., Degen G.H., Marko D.: Biomonitoring of Mycotoxins in Human Breast Milk: Current State and Future Perspectives, Chemical Research in Toxicology, July 18th 2016, doi: 10.1021/acs.chemrestox.6b00125
Warth B., Del Favero G., Wiesenberger G., Puntscher H., Woelflingseder L., Fruhmann P., Sarkanj B., Krska R., Schuhmacher R., Adam G., Marko D.: Identification of a novel humen deoxynivalenol metabolite enhancing proliferation of intestinal and urinary bladder cells, Sci Rep. 2016 Sep, 23; 6:33854. doi: 10.1038/srep33854
Metabolism and multi-toxin analytics of food contaminants
A further core competence of our lab is to investigate the occurrence and metabolism of food contaminants by applying mass spectrometric methods. This is typically done by analysis of food samples, cell extracts obtained from in vitro cell culture experiments, or tissues and bio-fluids obtained from animal experiments.
Key publications:
Puntscher H., Hankele S., Tillmann K., Attakpah E., Braun D., Kütt ML., Del Favero G., Aichinger G., Pahlke G., Höger H., Marko D., Warth B., First insights into Alternaria multi-toxin in vivo metabolism, Toxicology Letters, 2018 Oct 12. pii: S0378-4274(18)31989-1. doi: 10.1016/j.toxlet.2018.10.006. [Epub ahead of print]
Puntscher H., Kütt M-L., Skrinjar P., Mikula H., Podlech J., Fröhlich J., Marko D., Warth B., Tracking emerging mycotoxins in food: development of an LC-MS/MS method for free and modified Alternaria toxins, Analytical and Bioanalytical Chemistry, 2018 May 16. doi: 10.1007/s00216-018-1105-8.
Warth B., Del Favero G., Wiesenberger G., Puntscher H., Woelflingseder L., Fruhmann P., Sarkanj B., Krska R., Schuhmacher R., Adam G., Marko D.: Identification of a novel humen deoxynivalenol metabolite enhancing proliferation of intestinal and urinary bladder cells, Sci Rep. 2016 Sep, 23; 6:33854. doi: 10.1038/srep33854
Warth, B; Sulyok, M; Berthiller, et al. New insights into the human metabolism of the Fusarium mycotoxins deoxynivalenol and zearalenone, June 2013 Toxicology Letters